Now this is one huge Christmas tree…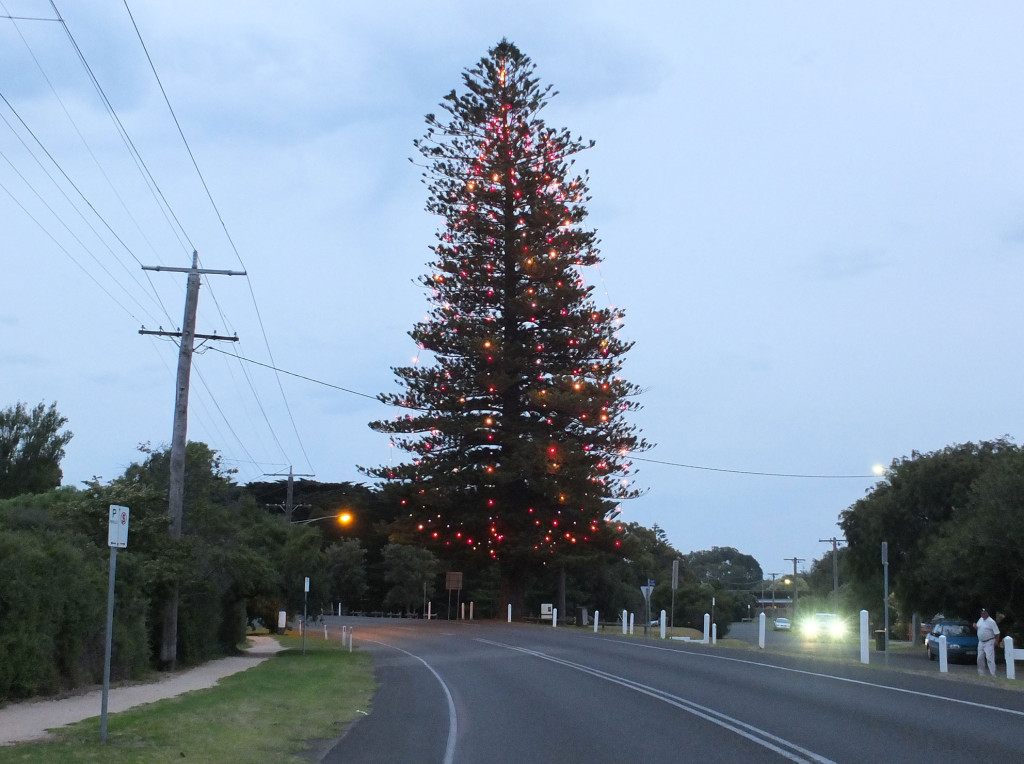 Located on the Bellarine Peninsula, Point Lonsdale boasts the biggest tree in the entire region…yes, even bigger then the new fancy one in Geelong!
One article I read said that this Christmas marks the 19th anniversary of the giant Norfolk Pine being lit up with lights…but in fact, the tree has been adorned with lights since the early 1950s.
I tried to find out a bit more about the history, but there is very little on the internet.
I did managed to discover that the tree was originally lit because the Progress Association had decided not to light the streets in 1952-1953, so the decision was made to light a large Norfolk Pine…three local men took on the task, and did so until 1995!
Decorating the tree had got too much for the men, who were by then in their 70s, so the council and various community groups took over, making it into a annual event.
And thankfully, the tradition continues…complete with a Point Lonsdale Christmas Tree Committee!
Nowadays, the lights are switched on with great ceremony on the first Saturday in December, and are then turned on every night till the end of January.
Sadly, this year's ceremony saw very inclement weather…heavy rain and strong winds, but the lights were still switched on as planned.
The pine is over 100 years old…maybe as old as 140 years…and stands approximately 37.3 metres tall.
Over 500 lights are manually strung on this amazing Christmas Tree!
Placing the strings of lights takes about 4 hours whilst tying them off, testing and placing of the star on top of the tree takes another few hours.
But it is all worth it!
The tree can be seen out to sea by ships approaching Port Philip Bay…in fact, it can be seen from up to 30 nautical miles away!
Ever since I was a kid, this tree has been very much a part of Christmas for me, and I hope that I will be able to see it for many years to come!