At this very moment, there are 11 men and 1 woman competing in a epic event…the 2015 World Marathon Challenge!
The group are running 7 marathons…in 7 continents…in 7 days…yep, you have read right!
Most are doing full marathon distances… a total 295 km or 183 miles…with two doing half marathons.
Not only is this a difficult and challenging physically, it is also a logistic nightmare because once the first leg is started, there is only 168 hours to complete the challenge with a lot of travelling involved….59 hours in the air flying and 38,000 km to be exact!
The challenge starts in Union Glacier (Antarctica), then onto Punta Arenas (Chile), Miami (USA), Madrid (Spain), Marrakech (Morocco), Dubai (United Arab Emirates) and finishing in Sydney (Australia).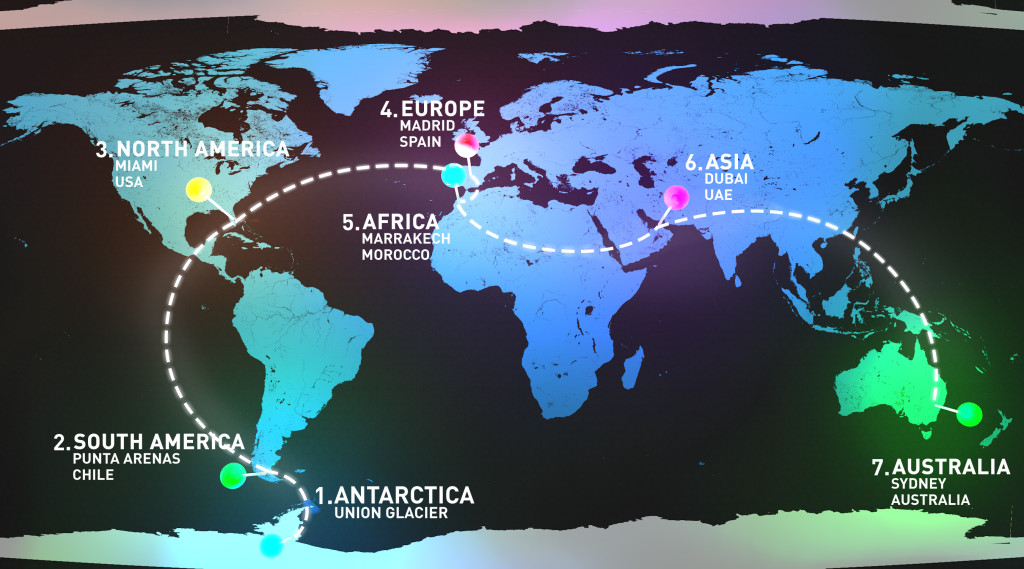 Each marathon is professionally organised and run, with medical support provided.
There is a time limit of 8 hours allowed for each marathon.
As the event progresses, the competitors will experience everything from marathon fatigue to the curses of travel such as jet lag and sleep deprivation.
Plus, there is going to be wide temperature fluctuations of possibly up to  50C!
As of writing, the first two legs have been successfully completed and all the contestants are heading to the next stop, Miami.
Amoungst the 12 runners is one Australian,  Douglas Wilson, who is from Melbourne!
Two years ago, 32 year old Wilson had surgery to remove a tumour from his brain…the doctors said it would take eighteen months to recover, but not only did he defy that prognosis, he returned to endurance running within months.
He is an example of how a life threatening experience can give you the drive to live, and push yourself to the limit…what an absolute inspiration!
Wilson has already run marathons in seven continents in the past, but not in 7 days!
Here is an image of him crossing the finishing line in Chile today…he has finished second in both the first and second legs…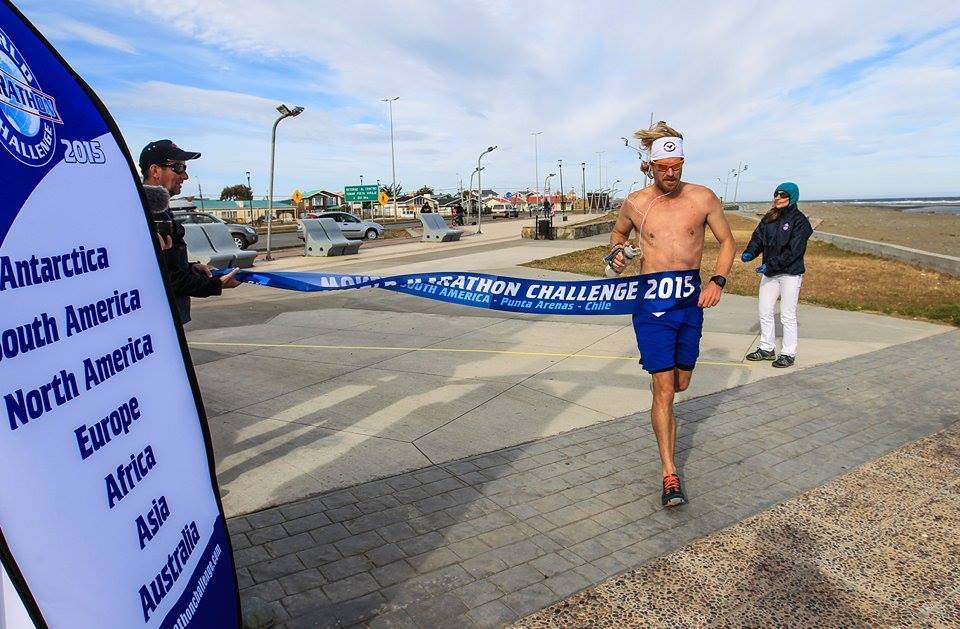 I can't imagine running 7 kms, let alone 7 marathons across the world and these people are doing that…right now!
So if you are in Sydney on the 23rd January, keep your eyes out for these elite athletes and cheer them on as they head towards the finish line!
For more information, locations, starting times etc on the World Marathon Challenge, visit the website, or go to the Facebook page which is currently being updated regularly with times and photos.
Please note: all images are courtesy of the World Marathon Challenge.