So today was "fix the hernia" day….and what a hell of a day it has been!
Yesterday, they told us to be at the Day Surgery Centre at 9.30am. We got there about 9.20am and got asked "where were you, we needed you at 9am!"
Safe to say that wasn't the best start….
However, unlike previous experiences with this centre, my husband was speedily processed, and next minute was set up in a bed in the surgery ward.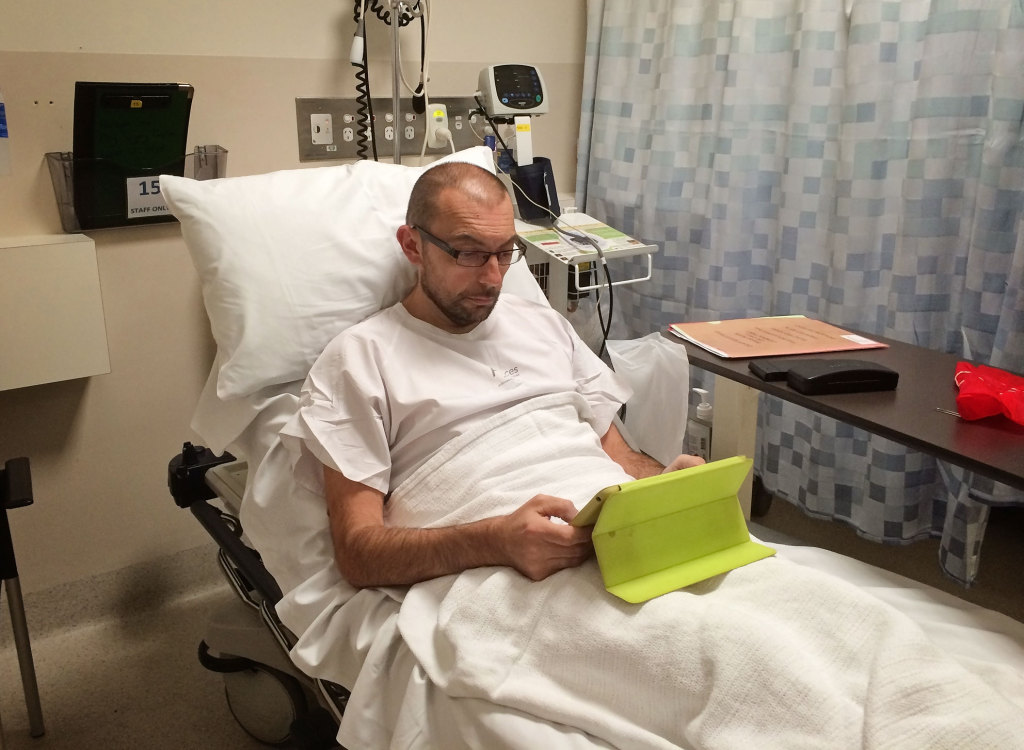 We were opposite the nurses station, and worryingly heard all about the surgeries being cancelled due to lack of beds…even those already in hospital were being put on hold…it was chaotic, and there were some very unhappy "customers".
We felt sure that we would be the next to be told to go home as the two people ahead of my husband were cancelled, but our good luck came to the rescue…with one slight hiccup.
My husband was given the choice to have the surgery, but afterwards, he would then be moved to another campus of the hospital which was about 10 minutes up the road.
He had no problem with this as he just wanted to get it over and done with…and if he said no, the next time it could happen again…and again.
So the surgery got the green light to go ahead…yay!
Two of the surgical team arrived and checked out the offending hernia….and carefully marked it's location!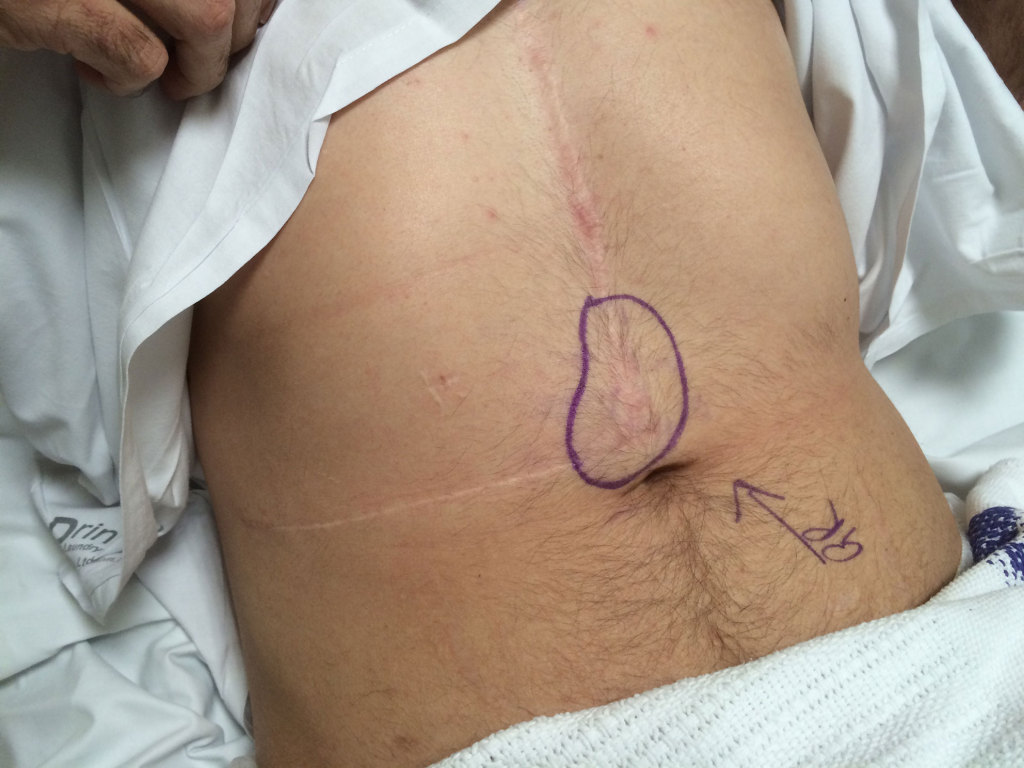 Apparently they see a lot of hernias occurring near the corner of the reverse L incision from a liver transplant.
We were then told he would be taken to theatre in about 45mins….and he was!
I headed off to a meeting about a project I am working on with the Liver Transplant Unit, and that thankfully filled in about an hour.
The rest of the time was spent drinking endless tea, and reading a book…I wandered up to the centre a couple of times but he was still not back…finally I asked a friendly staff member to give me a call when he was brought in from recovery…
And it wasn't until after 2pm that I finally got that call!
He was still pretty drowsy from the anesthetic, and had a drainage tube, but all in all, was doing well and wasn't in much pain.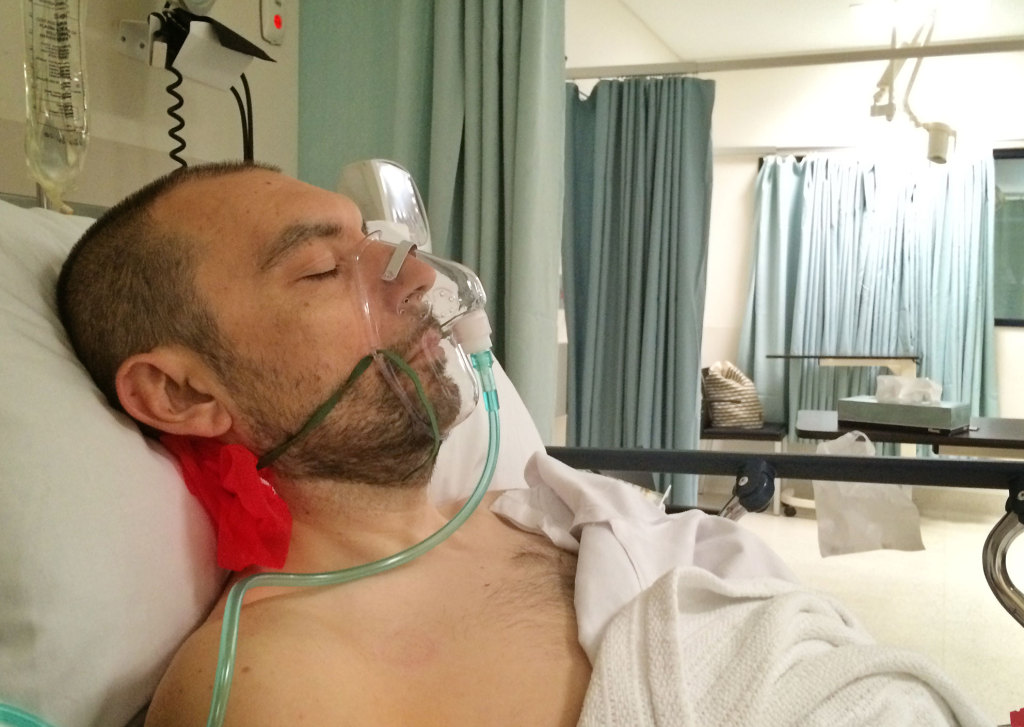 The Patient Transport Service was called to transfer him over to the other hospital, and they turned up about an hour later.
And then we hit drama….as my husband was being moved over onto the ambulance trolley, one of the transport crew collapsed!
I didn't see it, but apparently he looked much worse then my husband did!
The guy was quickly put on a bed, and a passing anesthetist checked him over…and in an ironic twist, it was the anesthetist that did my husband's transplant just over two years ago!
Imagine if he had collapsed while driving the ambulance! We hope he is back fit and well very soon.
However, now my poor husband was stuck on a very uncomfortable trolley, and had to wait for a new crew to be urgently called!
Finally, things got back on track, and my husband was transferred to the ambulance, but unfortunately he began to feel very ill.
I felt so sorry for him, but there was no choice…we just had to get him to the other hospital and settled back in a bed.
The 10 minute drive seemed to take forever, but we made it, and he was taken to a similar surgery ward where he will spend at least one night!
The poor guy was now feeling very crook, but the nurses gave him some anti nausea meds, plus some more pain relief.
I really didn't want to leave him, but it was now well after 5pm, and I had to get back to our car which was at the other hospital!
I was thinking I was going to have to walk back, which is basically uphill all the way, but I had some more good luck and just as I came out the door, the shuttle bus came past…I have never been more grateful to see a bus arrive!
Fingers crossed my husband is feeling much better by now, and that he can get some sleep tonight….and hopefully I will get the news tomorrow that he can come home!
And that, in a nutshell, was our day…never a dull moment around us!