Yesterday the unthinkable happened right in the middle of the world's most livable city.
It was something that just doesn't happen here…except it does, and it did.
One person drove their car deliberately through lunchtime & school holiday crowds in the Melbourne CBD,  killing at least 4 and hurting many more.
I say at least 4 as the death toll could still rise as victims now fight for life in hospital.
I won't go into all the who and what exactly happened…there is plenty already on social media and news websites.
The how and why this all happened is a swirling mess of blame, fear and anger.
We had just got home from a morning at a hospital (nothing serious) to hear the first reports of an incident.
Then watched with horror as more and more footage was shown across news channels and social media feeds.
And although dreadful with the loss of adult lives, it seems to make it all even more horrible when children are involved.
We finished the day with heavy hearts, and the awful feeling that our beloved city was hurting.
We decided to go into the city this morning…we love exploring the city streets and laneways, and walk without fear.
We went and stood at the corner of Bourke and Elizabeth St…a spot at the end of the Mall that we have walked through hundreds of times before.
Nothing had changed…yet everything was somehow different.
Because this was where the car had raced through, leaving total carnage behind.
Fast forward to almost 24 hours later and the bustle of city life has returned, yet there was a quietness amoungst the crowd that had gathered to pay their respects.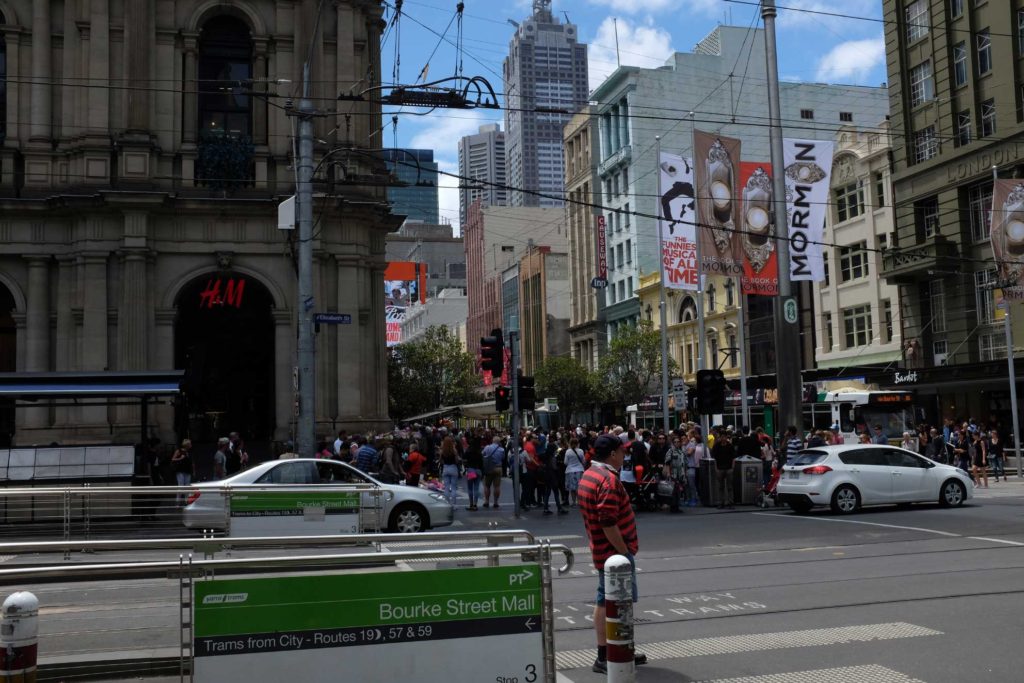 Many brought flowers to place at the makeshift shrine…counselors were on hand with comforting words and tissues…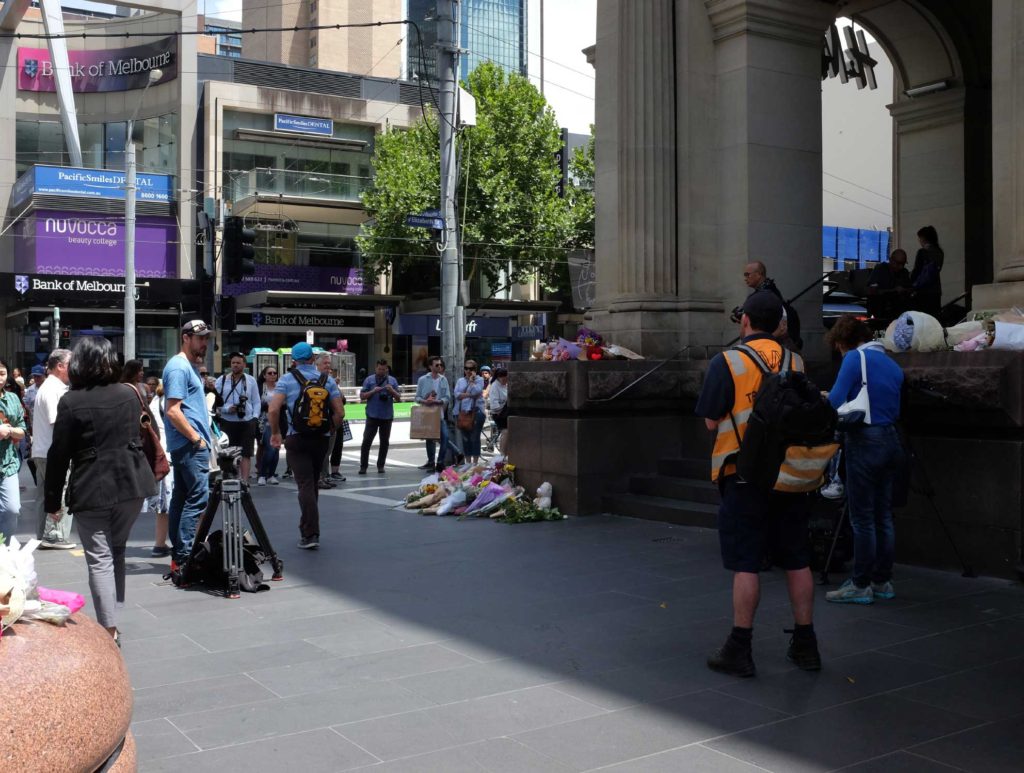 In a time of tragedy….in fact, from the moment it all happened…it is always amazing to see how strangers will step in to help and comfort, sometimes with no regards to their own safety.
The want to help and protect is strong, and I am somewhat comforted that it still exists here in Melbourne.
Yesterday wasn't a terror attack, but I have never seen so many police in the city as there was today…a show of security in troubled times.
It was also great to see so many people out and about…with the Australian Open on as well as various other events, it looked like just any other summer Saturday.
Yet as we walked through familiar surroundings, conversations could be heard, discussing what had happened with disbelief and horror.
Our hearts and thoughts go out to all those affected by this terrible event…the victims and their families, those who witnessed the attack, the emergency services and police….the effects are far reaching.
It will take time to heal, but we as a community must be strong…strong for those who need our support…and strong to change the system that allowed this person to be on the street and behind the wheel of a car.
Because, sadly things like this will continue to happen otherwise….it's the crazy world we live in.
But hopefully Melbourne can remain a safe place to be…that an event such as this will become a terrible memory, not a frightening reality…