I ordered this book online…and started reading it the moment I opened the parcel…and I couldn't put it down!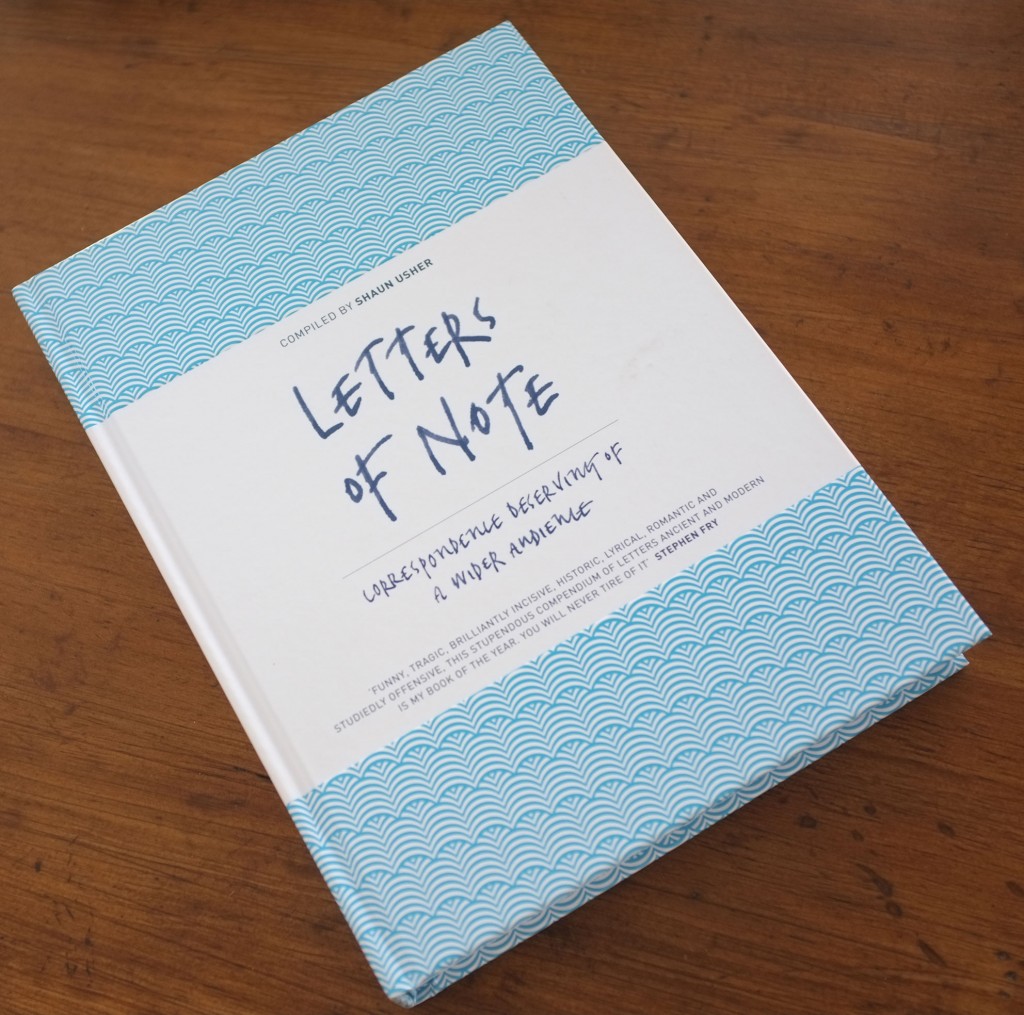 It is an absolutely captivating book…but there is more…this whole idea actually developed as result of a website!
It all started about 4 years ago, when a now 33 year old writer, Shuan Usher, created a blog called "Letters of Note".
The blog is described as "a blog-based archive of fascinating correspondence, complete with scans and transcripts of the original missives where available"….and I can tell you, it is fascinating!
The book, also entitled "Letters of Note" is a collection of 125 letters, telegrams, memos etc…it includes the inspiring, interesting, emotional, quirky and just plain unusual!
Some of the letters have been reproduced so you can see how they look in real life.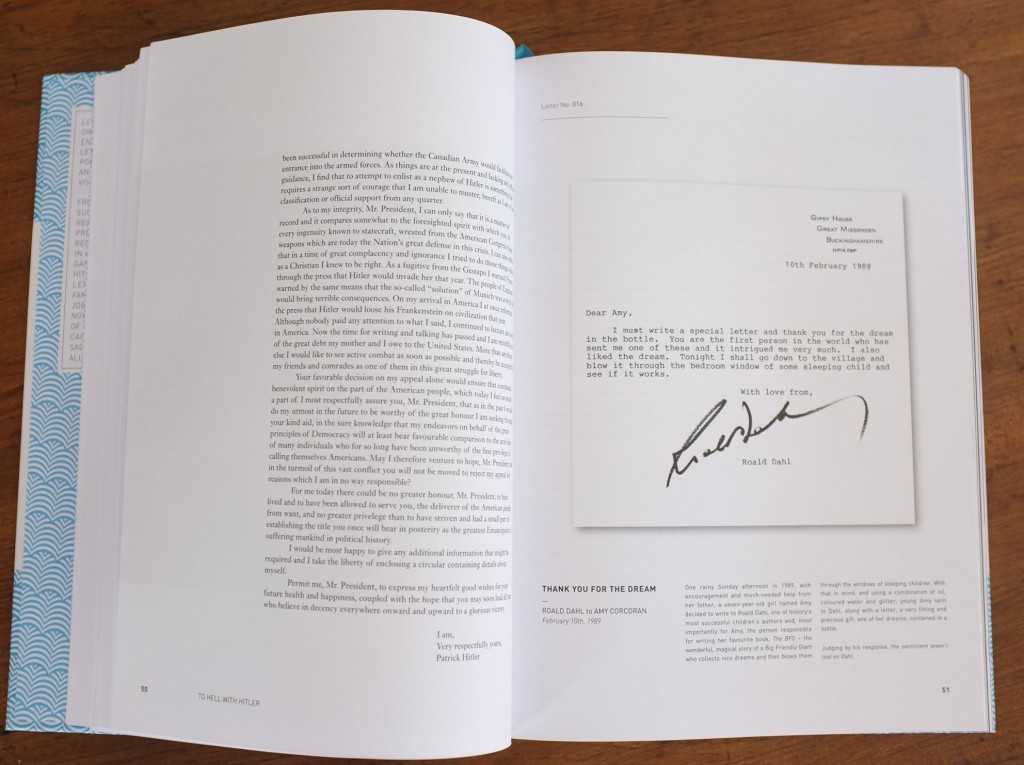 My favourites include…..I won't give too much away as you really need to read them yourself….
A letter written by a New York copywriter called Robert Pirosh in 1934…he writes an amazingly effective cover letter in order to get his dream job as a screenwriter…it is basically a letter about words…Love it!
A gorgeous response to a seven year old girl, written by Roald Dahl (in 1989).
A very moving letter written from a family to another family…one family had found the body of someone who perished in the Lockerbie Pan Am bomb…you just have to read it….
This one made me laugh out loud…a Michigan resident in 1997, received a stern letter from the regions Department of Environmental Quality…he had six weeks to remove two "unauthorised" and "hazardous" dams…his reply to the District Representative is pure gold!
Another one that made me laugh…especially as I am a bit too familiar with hospitals…a letter written in 1927 by the poet Dorothy Parker. She ended up in hospital suffering exhaustion and her letter to her lover about her stay is just perfect….the paragraph about one of the nurses is just hilarious!
The version I got is the UK version which you can see from the images is a large hardback book….which is strangely why I ordered it online as it was cheaper with free shipping…go figure!
It was published by Unbound, and it really is a beautifully presented book…cloth bound, using thick, uncoated paper…this is a book of quality, one definitely worth keeping!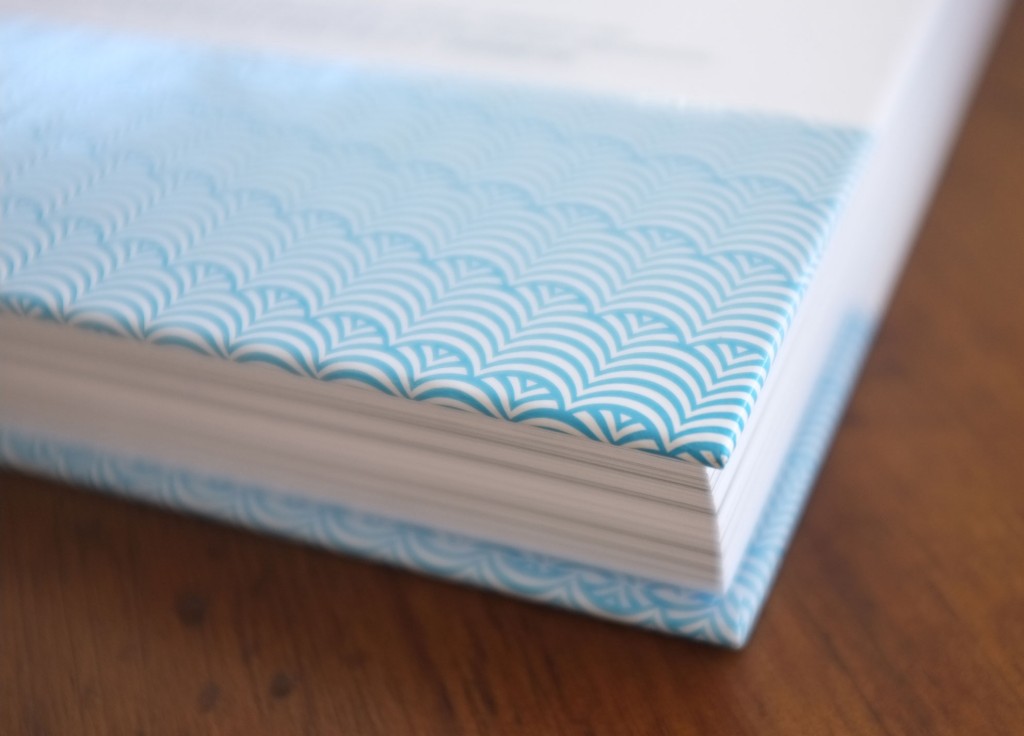 If you are a book lover like me, this volume is the real deal…the sort of book you read sitting at a beautiful desk in an old library…definitely not one for reading in bed!
Even how the book came to be printed is interesting…Unbound is a crowd funding site for authors…ideas are pitched, and people pledge for rewards.
And the names of all the supporters are printed at the back of the book…3136 in total!
I can't recommend this book high enough..as you read through the pages, you will laugh, and you will cry.
It showcases the power of written correspondence in its many forms, and how emotions can be put onto words.
All I can say to finish off is do yourself a favour and read it…and don't forget to let me know what your favourite ones are!